Glenford Lions Truck and Tractor Pull

Next Pull Dates
June 8, 2024
July 13, 2024
August 10, 2024

Flag donated by the Dalton, Ohio VFW
The flag was from Richard "Butch" Bert, a marine veteran who served from 1967 to 1972.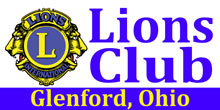 The Glenford Truck and Tractor Pull is one of the largest and oldest local pulls in central eastern Ohio. It began as a local pull for farmers in the 1950's and has grown in size. The Glenford Pull maintains its heritage by continuing classes that fit the tractors and trucks of the local people as well as having classes that bring competitors from many states.
The Glenford Pull is a multi-session pull with the antique tractors pulling in the afternoon sessions and the trucks and hotter farm tractors pulling in the evening sessions. With crowds of over 2000 and 200 hooks in a day it is one of the areas largest events.
Admission is $10.00 for all day.
Concession stand on the premises and all proceeds go to the Glenford Lions club.